Posted by
mike07
in
Meet the author
,
Pester your library
,
Uncategorized
,
What I am reading
Marc Jarvis is fifteen. He lives in Camberwell, a leafy Melbourne suburb. And like many boys, he spends a lot of time dreaming about girls and the future. When work experience brings him into contact with Electra, a brilliantly gifted runner, his quiet suburban life will never be the same. Jarvis 24 is a novel that hits the funny bone and the heart. Author David Metzenthen talks about the origins of Marc Jarvis.

What was the spark for Jarvis 24 ?
The spark that really got Jarvis going was a conversation that I had with a friend of mine about his two boys. One of the boys is super-confident about himself and the impact he has on the world, the other son worries about just about everything. I immediately wanted to write about the kid who worries, as I was always worried when I was at school – although I was a functional, left-wing type of a kid, who hid it pretty well. I'd already started Jarvis, but scrapped the first attempt, as it had no life in it until I heard about this under-age worrier….When I discovered Marc's voice, and his way of thinking, I felt I could write his story with a real sense of truth. I also heard of a girl who won an inter-school 200 metre race by such a huge distance, a chant went up around Olympic Park…'How much she did she cost? da-da da-da da-dah!' I've always been interested in sprinting, although I couldn't run out of sight on a foggy morning, so it was great to write about someone who can really fly.
So, in my experience, it takes two sparks to make a story: and Marc and Electra provided them for me.
Jarvis 24 is a very funny story, but there's also a lot of emotion beneath the surface, isn't there?
There's emotion below and beneath everyone and everyone's story; everyone's thinking, thinking, thinking – but generally they're not telling, in my limited experience. I really wanted to tap into Marc's ways of thinking, and his views on the world. Hopefully I could present an authentic young guy. I really turned the bullshit detector onto him (and onto myself) to give his world view… and although some of the things might not appear to make sense to some readers, they seemed to make sense to me and Marc…so they're in, meaning if Marc's thoughts don't seem straightforward or rational, the reader (and my editor!) will just have to navigate them as best they can.
Did you do any research for Jarvis 24?
I did do research for Jarvis 24, although it wasn't all that scientific. I walked up Glenferrie Road at dusk every Wednesday while my daughter was at basketball practice, and drank a coffee. I read Cathy Freeman's life story and was truly inspired by photographs of her running; she was like a swallow and a hawk, totally focused, so graceful and powerful and fast. I also re-visited myself as a sixteen year-old maniac sitting under a tree in the dark thinking about stowing away on a ship or jumping onto a moving freight train… and meeting the girl of my dreams. I also spoke to quite a few car sales people about their work, which was really interesting…but generally I just tried to lock into my characters, and let them proceed.
Marc is a pretty easy-going guy. He doesn't really have a particular goal or aim in life. Was that you as a teenager?
Marc isn't that easy-going and neither was I. When I was young I was stubborn, pig-headed, had strange expectations of the world, and refused to listen to good advice. My goal in life then was to live some kind of adventurous life. I wanted to hit the road, but at the same time, I loved farms and animals and the country and ships and rivers. I misunderstood the world; I thought there were no consequences for people who wanted to buck the system, that you had forever to do whatever… you don't! And then, because I wasn't great at working for other people, I decided I wanted to write about this kind of imagined world of mine – and so live out these adventures one by one. Yes, I'm a mess!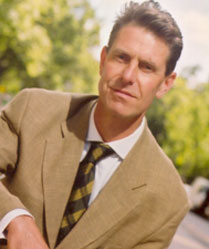 Marc and his friend Trav are pretty obsessed with girls, aren't they?
Marc and Trav are obsessed by girls. They love them, like them, and they are mystified by them. Marc sees each girl as a separate solar system, complex and intriguing, to be wondered at, and to hopefully be understood. He is fascinated by every thing about girls, and the very best of luck to him!
What's the difference between reading about sport in a novel and in the newspaper?
Writing about sport in a novel allows me to control the outcome! Reading about sport in a paper is someone's attempt to recreate the facts or analyse someone or some situation. I find writing sport scenes difficult, but when I watch sprinters, or great football teams, or someone playing something well, or with great passion, it offers a challenge to try and capture some essence of it. Sport can be utter rubbish or it can reach great heights; you just have to work out what you're seeing!
You are well known for historical novels like Boys of Blood and Bone, Black Water and Wildlight. Is Jarvis 24 a conscious change of direction?
Jarvis 24 isn't really a change of writing direction for me, as I simply do whatever project that seems to offer a trajectory. I've never intentionally concentrated on historical or contemporary settings; I simply write the story that I feel strongly about, and that might be interesting to other people. Let me just say, though, that I won't be writing anything mythological or fantastical soon! I'm a realist writer. I love the real world. It's the best place I've found, so far…if you combine it with your own imaginings.
What did you enjoy most about writing this novel?
I liked writing very much from Marc's perspective; I liked it that he had a misinformed idea of his own self, that he didn't really know what he was going to do next, or actually how he felt about things until he'd done them – but he was honest!
(David Metzenthen was an early supporter of the Boys, Blokes, Books and Bytes project. Thanks, Dave!)